So far this season I have only inducted nine members to the Hall of Mediocrity. I thought I would have added at least 15 members by now, but knowing I have very little follow through on some of my ideas I'm actually fairly content. Since tonight was the All-Star game I thought I'd add a few new members and recognize some special members with the first ever Mediocre Stars. New Members will have an * after thier name.
The worst hitter to play regularly in the ML, his .170 career BA is 42 points below any other batter with 2500 or more at-bats. His .139 in 1909 is the lowest mark ever for a batting title qualifier. In the lineup for his arm, his 202 assists the same year are the ninth best by a catcher; that July, he set a 20th century record for throwing out seven would be basestealers.
Bud Clancy
*
played 1924-30, 32 and 34 for White Sox, Dodgers and Phillies. 522 games, BA .281, 12 HR, 198 RBIs.
Clancy's place in gthe record book came through no effort of his own: he is one of three first basemen to play a full nine innings without a putout or assist.

Second Base
Syd O'Brien
*
played 1969-72 for Red Sox, White Sox, Angels and Brewers. 378 games, .230 BA, 24 HR, 100 RBI.
A poor fielder, O'Brien played on four clubs in his four major league years. He exemplified the ghastly 1970 White Sox, who lost a club-record 106 games, by committing 23 errors at second and third base in just 111 games for a .948 fielding average.
Third Base
Wally Gilbert
*
Played from 1928-32 for the Dodgers. 591 games, .229, 5 HR, 55RBI
An adventurous third baseman, Gilbert led the NL inerrors in 1930 and assists in 1931, when he got six hits in a game and went homerless in 552 AB.
Shortstop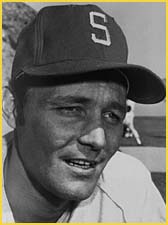 Ray Oyler
*
played form 1965-70 for the Tigers, Pilots and Angels. 542 games, .175 BA, 15 HR, 86 RBI.
The archetype "good-field, no hit" player, Oyler relinqished the Detroit shortstop to centerfielder Mickey Stanley to strengthen the Tiger offense in the 1968 World Series. Still, Dick McAuliffe called him "the best shortstop I ever played with." Seattle Fans, feeling Oyler was the Pilots most needy of support, organized the "Ray Oyler Fan Club" in spring training. Oyler almost ruined it by homering to win the Pilots' first home game. He was suppose to be an underdog. He ended up filling the role perfectly, batting .165 as their regular shortstop.
Outfielders
Danny Ainge
played from 1979-1981 for the Toronto Blue Jays, 211 games, .220 BA, 2 HRs, 37RBI
A basketball star at Brigham Young, the fiery Ainge was a 6'4" infielder-outfielder with the Blue Jays. After Three Years of failing to hit major league pitching, he quit baseball to join the NBA Boston Celtics.

Odwell hit only one home run as a Reds rookie in 1904, but his nine the next season led the NL. Teammate Cy Seymour, with eight homers and the league batting and RBI titles, missed the Triple Crown because of Odwell's home run chanpionship. In two more ML seasons, Odwell never homered again.

Jim Delsing
*
played 1948-56 and 60 for the White Sox, Yankees, Browns, Tigers and A's. 822 games, .255 BA, 40 HR, 286 RBI.
The Browns' pinch-runner in 1951 for midget Eddie Daedel, Delsing hit .300 several times in the minors and made teh Northern League, Pacific Coast League and American Association all-star teams. His top ML BA was .288 with the 1953 Tigers. His son Jim is a member of the PGA Tour

Taylor (T-Bone) Phillips
*
played 1956-60 and 63 for the Braves, Cubs, Phillies and White Sox. 439 innings, 16-22 with a 4.82 ERA
Hard-throwing and wild Phillips ranks as the fourth worst-hitting pitcher (minnimum 100 at-bats) in ML history, going 6-113 (.053). He was 7-10 on the mound for the Cubs in 1958, his most active season.

Jittery Joe Berry
played from 1942, 44-46 for Cubs, A's, Indians. 294 innings, 21-22 ERA of 2.45
Jittery Joe was a fidgety right hander with a herky-jerky delivery who spent 18 years in the minors before leading the AL in relief wins (10) and saves (12) as a 39 year old rookie in 1944. The 145 pound Berry was once blown off the mound by a gust of wind.